The Executive Board of the Society for Collegiate Travel & Expense Management (SCTEM) welcomes you! Created by higher education for higher education, SCTEM is the authoritative resource for travel and expense management in higher education by pushing innovations and improvements in processes, practices, and products/services to create world-class travel management solutions in the academic arena.
SCTEM focuses on the unique challenges facing academic institutions regarding all aspects of business travel. This includes emerging travel trends and technology, their impact on policies, procedures, and best practices of the day, duty of care and risk management, strategic contract facilitation (management), and effective and efficient travel and expense ecosystem development and maintenance to better manage their business travel program within the academic enterprise.
SCTEM offers exceptional value to our members through quality education, peer benchmarking data, timely and relevant communication and networking within the higher education sector and business travel industry.
SCTEM provides thought-leadership, resources, and opportunities for colleges, universities, academic units, institutions, and travel suppliers to build common understandings of the unique challenges and opportunities found in the academic arena.
SCTEM is a non-profit organization with a membership of travel professionals representing over 200 colleges, universities and academic-related centers and over 60-travel industry suppliers representing airlines, ground transportation, hoteliers, travel management companies, travel and expense technology, payment solutions, data analytics, and risk management/duty of care professionals.
Our Goal
Create a culture of collaboration between collegiate travel and expense administrators and committed travel suppliers to facilitate growth of innovative, sustainable travel and expense management programs throughout higher education.
Our Vision
SCTEM is passionate about connecting higher education with relevant, innovative travel and expense suppliers to build strong, sustainable travel programs through collaboration.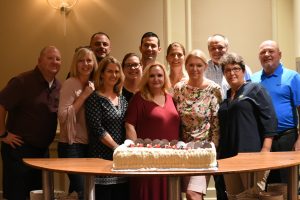 Created by and for higher education, the SCTEM Executive Board celebrates 30 years at the 2017 Annual Conference, Turnberry Isle Resort, Aventura, FL.